United We Stand
Townsend Productions' play, United We Stand, follows in the traditional of their highly successful productions The Ragged Trousered Philanthropists and We Will Be Free!-the Tolpuddle Martyrs Story, and focuses on the true and still very current events that led to the imprisonment of building workers Des Warren and Eric Tomlinson (Ricky Tomlinson of 'The Royle Family').
It reflects the great tide of anger, which rocked the very foundations of the established political elite, examine the extraordinary political will of all the participants and share the anguish of falling prey to a flagrant miscarriage of justice.
Townsend productions presented the play at the Irish Centre Liverpool on the 1st April 2015.
The play was sponsored by the manager of the Irish centre Paul Spooner. It was a complete sell out. There was a large contingent from UCATT in attendance to support the play and the Shrewsbury 24 Campaign. The reputation of the play drew people from all over the country to the centre to see it being performed.
Ricky Tomlinson, who was in the audience, congratulated Townsend theatre group for the accuracy of the story and the way in which the writing managed to condense such a complex story into an hour and a half. He paid compliments to their fine acting skills and said of Neil Gore that "Neil made a fantastic job of playing the 'young' Ricky' ". He praised Paul Fox who played Des Warren and said "For somebody who never knew Des his performance was outstanding".
Ricky commented, "If Des had been alive to see an actor playing him on stage, in a play which told the story of the Shrewsbury 24 pickets, he would have been delighted".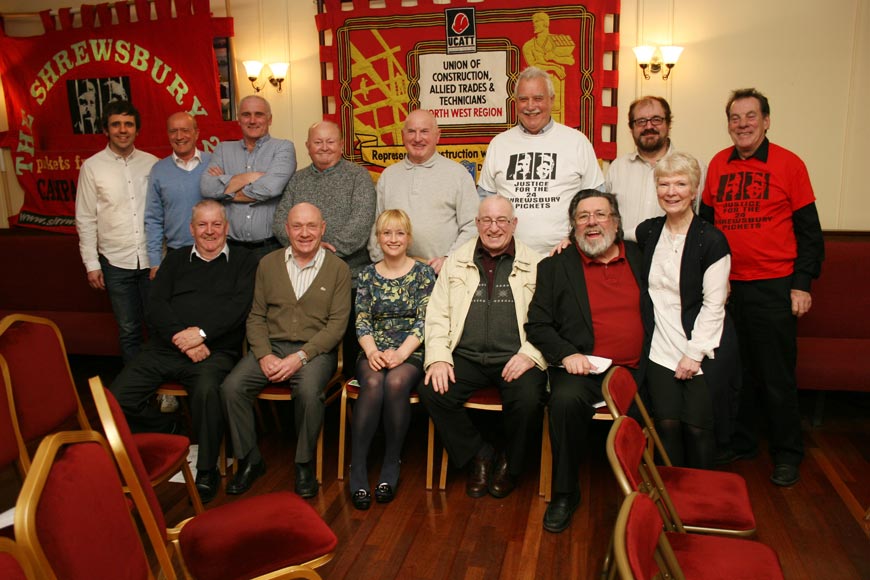 Hover over the photos to pause the slide show and read the captions.
Photographs Copyright Chris Gregory Photography. All rights reserved 2015.